1.

Density of Starbucks
Worth: 10%

DUE: October 4th, 2021 at 11:55pm; submitted on MOODLE.
Learning objectives:
Write some code

Solving a real problem/question

Thinking abstractly

Work with existing code

Understand existing code

Variables

Using functions

Boolean operators

Conditionals

Comments

Using your code to answer questions
Note
This assignment may be done with other students. Feel free to collaborate all you want (in fact, I encourage it). Every student must submit their own work. The only rule I have here is that your code/functions must not be more or less identical to other students'. If your code is, you will be investigated for academic misconduct. Also, if your code/functions are identical to those that you obtained from somewhere, we're going to have a problem (I have copies of past years assignment submissions to check your work against).
Warning
You should not expect to be able to sit down and just start coding a solution. Computer science does not work this way. Expect this assignment to take hours. Expect to get things wrong, then, expect to get things wrong more.
In this assignment, you will use a real dataset containing the locations of all North American Starbucks Coffee houses (as of a few years ago) to compute the density of Starbucks on a given patch of the Earth's surface.
To make life easier for the first assignment, you don't have to start from scratch. I've already started a file for you to use as a template. This is also somewhat realistic for programmers; you don't always start completely from scratch… Sometimes you're trying to modify someone else's code that you downloaded or inherited. Also, learning how to work with existing code is a huge way to learn.
Warning
Some students have reported their browsers (seems to only be chrome that's being difficult) complaining about possible security issues. There isn't any; this is just because the files are scripts and scripts CAN be problematic if they are intended to be troublesome (these are not). To get around this, tell the browser to download it anyways. There are a few ways to do this: (a) Click the arrow next to the download at the bottom of the page and say "Keep". (b) Navigate to your browser's download screen and select "Keep".
Download the asn1.ipynp notebook and upload it to Colab to get started. See below image. WARNING: You should be sure to save a copy of this to your Google drive and then work with that one. You don't have to, but you will have to re-upload the project every time you want to work on it.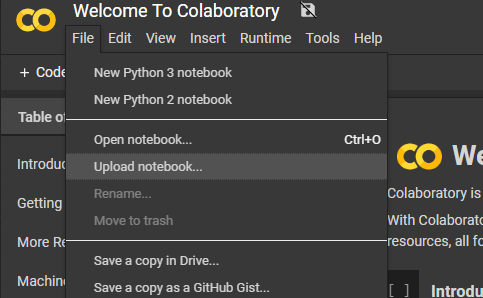 Alternatively if you want, download asn1.py to get started if you want to not use Colab. Do whichever you want. It's the same as the notebook file, just missing the notebook stuff.
The steps you need to do are laid out, in detail (and suggested order) below.
Warning
Do not alter the function details in the .ipynb/.py files:
Do not change the name of the functions

Do not remove the function description

Do not remove or add to the parameters
You should also NOT be using the input() function in this assignment.
You will also need the data file starbucks.csv. Download this to your computer and upload it to your Colab files (see below image). Unfortunately, every time you open your colab project, you will need to re-upload. Not a big deal, but something you will need to remember.
If you would like to not use Colab and work from your own computer, then just be sure to save this file in the same directory that you are saving your assignment in.